Wireless EQDirect - a Bluetooth connection to your Synta mount
Submitted by Olivier on 2 May, 2008 - 01:00 GMT
2007 was the year that I bought my first dual-axis mount: an Orion Sirius EQ-G. This mount is virtually identical to the Skywatcher HEQ5 with the recent motorization. Apart from it being an affordable mount with decent performance, it also features lots of interest from enthusiast amateur astronomers, either eager to enhance the mount's performance (see the EQ6 Yahoo! Group), or even to give it advanced computerized control for free (see the EQMOD Yahoo! Group).
All facts mentioned above have influenced my final decision to get the non GoTo "SynTrek" variant of the Orion Sirius EQ-G (the GoTo version of the handcontroller is "SynScan"). Nine months later I decided to acquire an EQDIR module from Shoestring Astronomy, along with the EQCBL-01 mating cable. I then installed the free planetarium software Cartes du Ciel, the free and standardized ASCOM Platform (free, Windows platform), and the latest EQMOD ASCOM drivers allowed me to control my mount from my laptop. I was impressed by the relative ease with which all was installed and how the hardware and software collaborated without major issues.
The only real problem I witnessed was a mere usability issue: since I observe mainly on a small balcony or on a remote location, the cable connecting the mount to the PC was often in the way. For a permanent setup this most likely is not a problem, but in my case I was thinking in terms of «this can be done in a more user friendly way». Hence I decided to look at wireless solutions to replace the RS232 serial link with the mount.
One source of inspiration was Astromist, a fantastic astronomy planner and planetarium tool for Windows Mobile. On the Astromist Yahoo! Group I read several stories about a serial to Bluetooth module from AirCable, and started my search in Europe for such modules. Unfortunately these modules are quite expensive; it was a challenge to find one for less than €100. Eventually I found one candidate in the LM058 (which appears to be a rebranded product from Rayson).
Oh great! I can now eliminate the wireline connection between the EQDIR module and my laptop whith this Bluetooth unit. Yes, that's right... however these RS232 to Bluetooth modules still require power for their operation. Guess what: you can power them either via a dedicated (wired) wall wart or via a small USB cable. Aargh!
Next challenge was to provide the required power without adding an extra wire to the RS232 to Bluetooth module. There are 2 alternatives: either via battery power or by powering Pin 9 of the Sub-D connector. The former is not practical, so I decided to evaluate the latter. One option is to open the EQDIR module and solder a wire connection between the 5VDC output from the 78L05 low dropout voltage regulator on the tiny EQDIR PCB and pin 9 of the RS232 part. This will definitely work, but I decided to learn how to make a printed circuit board in this project. That was quite fun!
I will spare you the details of my endeavor (see the thread Orion Sirius EQ-G (Skywatcher HEQ5) made wireless on Cloudy Nights) but thanks to the help of a fellow ATMer I learned to use EAGLE Light to design printed circuit boards, and in addition I experimented with the toner transfer method as a cheap (but labor intensive) means of generating an etching mask.
Schematics of the circuit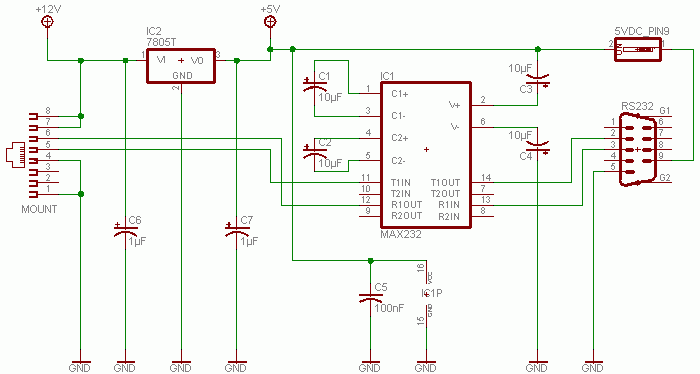 As you can see I have foreseen a DIP switch to be able to toggle the 5VDC power supply to pin 9 of the RS232 interface. Capacitors C1 to C4 can be electrolytic capacitors, but C6 and C7 need to be low ESR capacitors (e.g. Tantalum capacitors). C5 can be ceramic.
Overview of the printed circuit board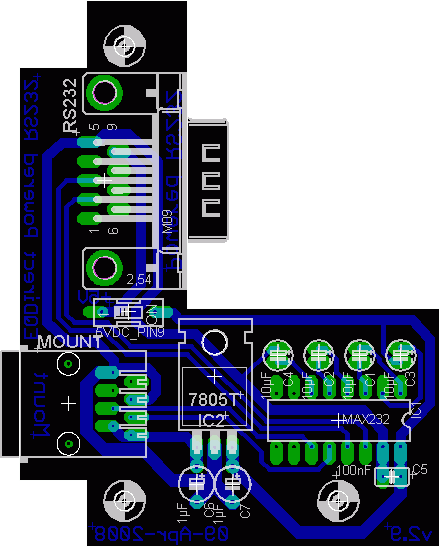 Etching mask, silk screening and drilling template. Note that the silk screening has not been not mirrored in this PDF!
Finished circuit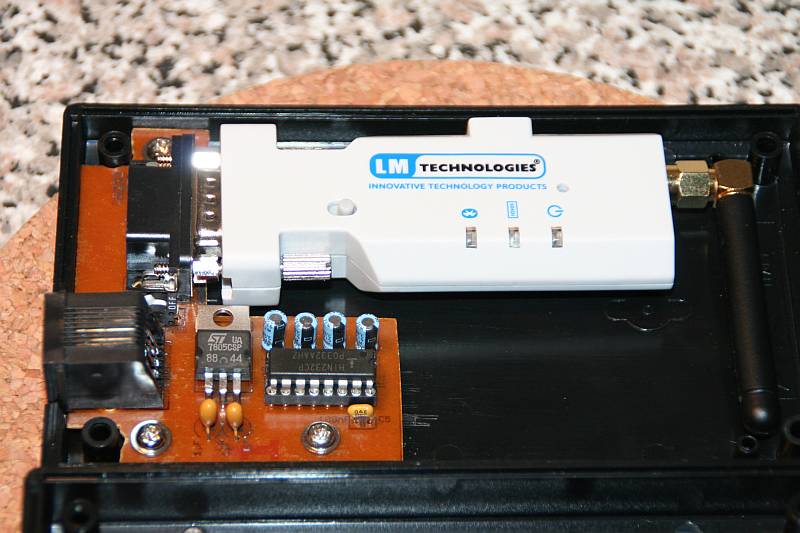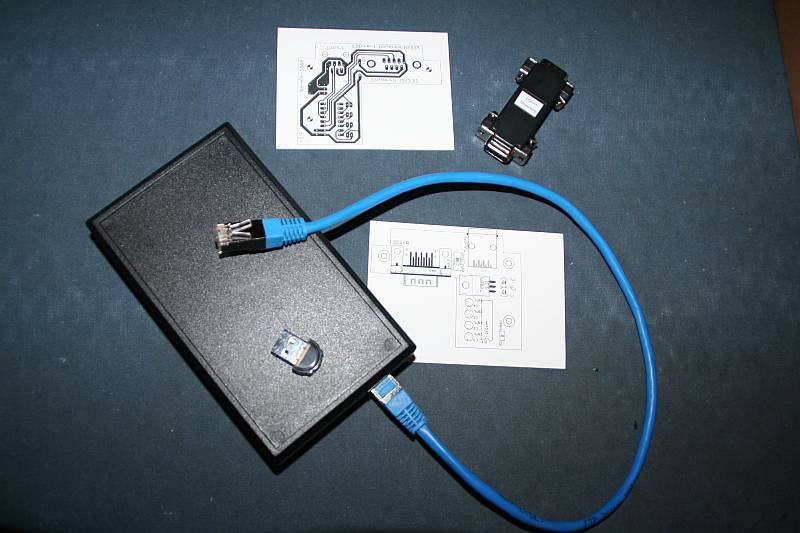 Bill of materials
Components for an Orion Sirius EQ-G or Skywatcher HEQ5 mount (with a "RJ45" connector):
1x single sided printed circuit board plate, minimum 78mm x 60mm
1x MAX232 chip (RS232/TTL conversion) (1.80€)
1x DIL16 IC socket (for the MAX232 chip) - optional (0.35€)
1x Modular Jack (Ethernet), PCB mount, 90° (2€)
1x Sub-D 9-pin male connector, PCB mount, 90° (1€)
1x 7805 voltage regulator (provides 5VDC to the MAX232 and to pin 9 on the Sub-D connector) (0.50€)
1x 1 channel DIP switch (allows switching on/off the 5VDC power supply to pin 9) (0.60€)
4x electrolytic capacitor 10µF (16VDC) for the MAX232 (1€)
2x Tantalum low ESR capacitor 1µF (35VDC) for decoupling the 7805 regulator (0.50€)
1x ceramic (multilayer) capacitor 100nF for decoupling the power on the MAX232 (0.20€)
1x short (50cm or less) Ethernet patch cable (1.50€)
Depending on the hobbyist's needs the following components can differ:
1x TEKO TK560B project box (€17.50)
1x LM058 RS232/Bluetooth module (about €75)
Total cost of my solution (excluding etching, tinning and soldering): about 100€.